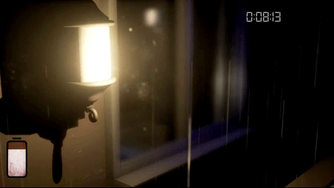 The Balcony is where Ignited Foxy resides at until the making of reborn. Usually, the balcony can be viewed by pressing the M key on your keyboard.
Surroundings
If you look through the window, you can see a forest behind the balcony. On the left of the balcony, there appears to be only one lamp. The rest of the balcony is empty, excluding Ignited Foxy.
Tips
Ignited Foxy will start to rise up when about 2 minutes has passed. Ignited Foxy does not make any sounds when he rises up, so you will have to check on your window after 2 minutes had passed. If he is there, then you will see his silhouette rising up with his arms outstretched.
Flashing the light at Ignited Foxy will cause him to screech and duck down again, and he will not start to rise up until about a minute later.
Trivia
The balcony can be seen mostly if you activate the M secret.